PEOPLE, PLANET, NEW SCIENCE


Entrepreneurship for the benefit of all and of our planet.
Ecuanime advocates the development of socially responsible and eco-sustainable entrepreneurship, products and services.
Encourages quality human co-existence and quality co-habiting with our planet.
Ecuanime believe that human beings have all what it takes to develop new eco-sustainable entrepreneurship culture for the benefit of all and our planet. We have defined and conceptualised "New Science" as the Science of Human and Planetary Consciousness. The New Science of Human Transformation and Empowerment. Human beings are multidimensional and multi sensorial, we are sensing elements of humanity and life in our planet. We are the carriers of human conductivity that entangle our consciousness with our eco-system.

New Sciences of human empowerment, is a set of new beliefs systems, new thinking, and quality human interaction.


Humanity is involved in an irreversible qualitative thinking shift to intertwine new multidisciplinary dimensions: New Science systemically integrates; eco-living and systemic thinking, neuro-plasticity, epigenetic, quantum physic, conductivity-energy-fields, biology of human consciousness. New Science is dynamic, open-ended, fluid, and ever evolving, its goes beyond the practices of self-censored paradigms, eternal truths and dogmas.

For us nothing is fixed, rigid, predetermined or pre-ordained, everything is fluid, and a continuous flow of energy. We use multi-disciplinary approaches to "develop new thinking culture".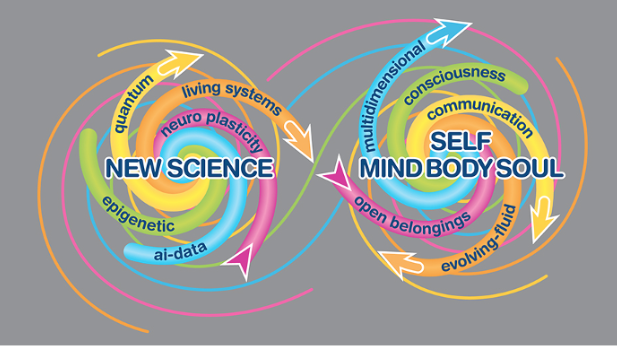 We also acknowledge the development of a parallel scientific-technological process. This involves the fields of bioengineering, digitisation, robotic, machine learning, artificial intelligence (AI. This "New Science" follows the route of neoliberal ownership of a cyber-ideology aiming at total control-domination of our human consciousness and spirit. These disciplines target the control of humanity in a process of a virtual simulate reality of power a masquerade of power to be accepted and obeyed as neutral, rational, logical, universal.




We work on the basis of human beings as multidimensional and multi-sensorial, complex, dynamic, open, ever evolving and involved in continuous relational interactions. We developed new linguistics & social-communication to pursue boundary-less, borderless "open" personal belongings, new living system organisational and cultural developments.
Human evolution during this century is increasingly reaching higher levels of self and collective awareness, is allowing us to secure deeper understanding and practices of human consciousness and actively spreading shared human wisdom to transform existing dominant entrepreneurial, cultural practices and society.


We assist organisations to develop a new entrepreneurial eco-culture and higher level of consciousness to ensure that a new eco-business models is written with the aim of becoming more eco-sustainable.



We assist companies to commit to eco-sustainability strategic agenda.

Our experience tell us that companies that do not recognise and acknowledge new sustainable business practices, they are and will simply be out of the game. It is our view, this process is irreversible.
For us the XXI is about quality and people are demanding "quality" in everything; in eco-entrepreneurship (socially responsible and sustainable products and services), new political participation, new quality social development, environmental, gender, race, spirituality, a new quality and culture of life.
We reject scientific dogmatic determinism or reductionism; it is our view that we are not determined by genes, not by neurones, neither by data mining or artificial intelligence. It is real life experiences and personal attitude to life that makes us who we are and would like to be and what type of organisation we want.
We network with leading scientists in epigenetic (genes constantly transformation), in neuro-plasticity (neurones continually are changing), with scientists involved in open-integrated relational living systems. We believe that it is our eco-biology, the environment, our thinking, our beliefs impacts on what we would like to be.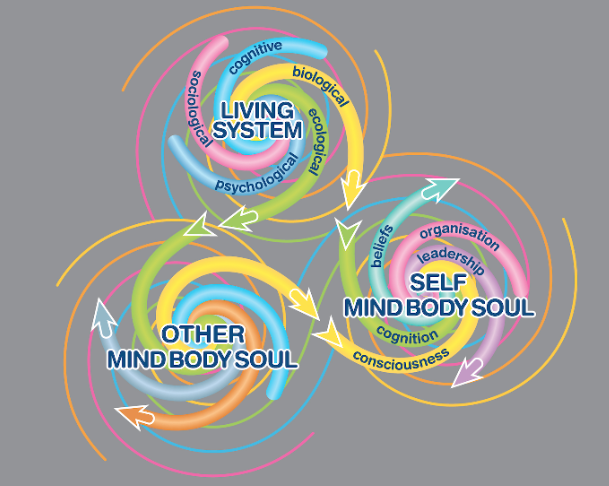 We develop new thinking's, new practices which integrates ecological, entrepreneurial economic, social, political, cognitive, psychological, and biological spheres as unifying dimensions.
New linguistics and narratives to develop relationships networks based on quality connections-conversations - quality conductivity to build new sustainable path of human co-existence, based common grounds and agreed solutions.
We work by creating and sustaining a safe space to people to ask questions, transforming them into quality conversations and ensuring all get involved in practical quality actions.
We are setting in motion new practices of inclusive and responsible social relationships based on human dignity of mutual understanding and mutual respect. We focus our work in finding common interests, grounds and reach quality agreed solutions.
For us "culture" and "identity" are both "open ended", dynamic, multidimensional, complex, fluid, transcending and evolving with permanent switches and shifts in the mindset; Culture and identity is to; co-exist, coalesce, experiment, break, belong, fuse, merge, emigrate, escape, liberate or not, from any 'culture or identity'; and/or adopt open "identities", "affiliations", "belongings" "allegiances" from your own web of life, to practice qualitative humane co-existence, even in situations of adversity"™
Experts on New Science of Human and Planetary Consciousness
*
Beyond Leadership: People, Planet, New Science
* Transformation and Human Empowerment
* Digital Transformation and Innovation
* Connectivity-Conductivity-Action
* Awareness-Consciousness-Wisdom
* Organisational & Executive Coaching
* Quality Questions, Quality Conversations, and Quality Actions
Contact us: info@ecuanime.com

P: +44 (0) 2075588989
M: +44 (0) 7966525464
Skype: ecuanimeint
Offices: London, Brussels, Paris,
Santiago de Chile
Page under construction